Have you ever heard of Lake Malawi? It's an African Great Lake located between Malawi, Mozambique (where it's called Lago Niassa) and Tanzania (Lake Nyasa).  I have never been there – yet! – and this representative photo was taken at the Toronto Zoo. It is the 9th largest lake in the world and home to more species of fish than any other lake in the world! It's a meromictic lake w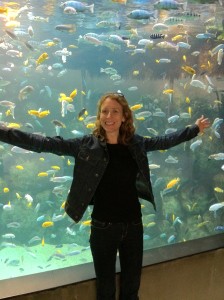 hich means it has water layers and don't mix (yes, I am also a science geek!).  And, it's isolated from other water bodies. The fish here – and most of these many hundreds of fish are unique (or endemic) to Lake Malawi – have developed amazing adaptations. They don't flight or eat each other or steal habitat to shut some species out, nope, they manage to live together! Wow! Isn't nature amazing!!
Well so is our world! And so are you!  In the world today there are opportunities for virtually any and every business, any and every dream. Just like all of these beautiful fish can live together in harmony, thriving in their own niche environments in one place, you can take your passion and live it. There are micro economies, networks, niches in every city that you have never even heard of – and people who are successful and thriving in all of these areas.
Are you doing what you love? If you're not, why not? If you are and it's not working out the way you hoped, what's holding you back? If you are wiling to really go for it, you can create anything you want. You can thrive in your own layer of your 'Lake Malawi' with hundreds of others who connect and collaborate and thrive along with you.  If you don't believe it, believe in my belief in you. With the right knowledge, the right actions, and a solid picture in your mind of what you're after, you can be, do and have it!